We are delighted to announce that FVC has entered into a joint venture with www.StructuredRetailProducts.com (SRP), the most comprehensive data and market intelligence provider in the structured products market, to launch StructrPro, a new structured products lifecycle management (LCM) portal to be powered by the SRP database. This service combines the power of SRP product data and FVC analytics and reporting.
Access to the service will be offered to eligible SRP subscribers. StructrPro will be available direct from the SRP application and will enable Issuers and distributors including private banks, insurance companies, advisers/brokers, and hedge funds to access pricing quality data combined with analytics including independent valuations, stress test analytics, lifecycle data, quantitative reporting and portfolio analysis.
Initial launch for the US market
The initial launch will serve the US market for which SRP currently has more than 40,000 live structured products on its database. Users of StructrPro will be able to perform analysis and benefit from the innovative functionality on a whole of market basis or for their own portfolios or searches.
During 2022 and beyond StructrPro will be rolled out by country to cover other market databases in a similar way to provide analytics and valuations for each market which will be updated weekly or on-demand.
"The purpose of the life-cycling portal is to provide a complete structured product selection, monitoring and analysis system to the market," said Andrew Himsley, Chief Executive Officer, Euromoney Derivatives.
Multiple features and use cases
"The portal will have different use cases depending on the client type and jurisdiction. Its primary function is to serve as an independent structured product management tool for issuers, distributors, advisers, brokers and buy-side firms such as discretionary fund managers and family offices. It is not affiliated to any other party so is perfectly aligned to serve its clients' needs" said Tim Mortimer, managing director, FVC.
The application will serve as a direct structured product governance tool for buy side firms, financial advisers and brokers. It will allow these firms to analyse products that their clients hold both individually and as part of a portfolio. Additionally, on a whole of market basis it can be used to show a clear overview of performances and trends and granular detail of upcoming maturities and product events. This is primarily aimed at issuers and distributors to understand market dynamics and to perform detailed competitor analysis.
Key elements
1. Dynamic product reports Reports for each individual structured product in the live database will be updated weekly. These reports will draw on experience and methodologies of the successful adviser facing Structured Edge report concept created by FVC that has been used by thousands of advisers in the UK for many years and more detailed analytics it provides to institutions. Each report will contain key details about the product with charts, probability tables and relevant product events.
<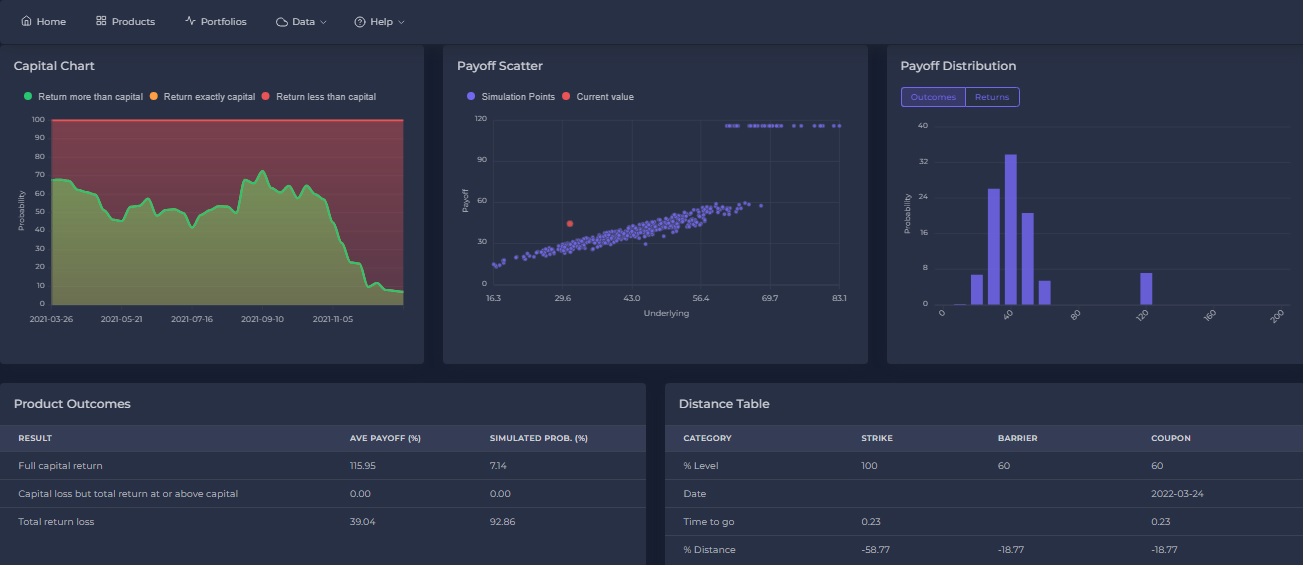 2. Portfolio aggregate reporting Individual product information will be aggregated to give firm, adviser and client level detail on their portfolios or for search results on the fly. This will include charts and data of overall performance breakdowns by underlyings, product types and issuers, past and future monitoring events. This information will be displayed in the application with larger data download available by spreadsheet or other integration methods.
<

3. Product visuals and simulations To help understand future product evolution by individual product or portfolio the application will have a number of visual and simulations tools. These can be used to analyse products in-life to track their progress or pre-strike as part of a selection and filtering process.
<

The application will be launched for the US market at the end of March 2022. FVC will also be providing the same functionality for the UK market later in 2022 in tandem with its service Structured Edge (www.structurededge.co.uk) which has carried over 6000 products in the UK market and is used by thousands of financial advisers.
For more information please contact Tim Mortimer, FVC at tim.mortimer@futurevc.co.uk or visit SRP intro page
Tags:
Structured Edge
Related Posts: