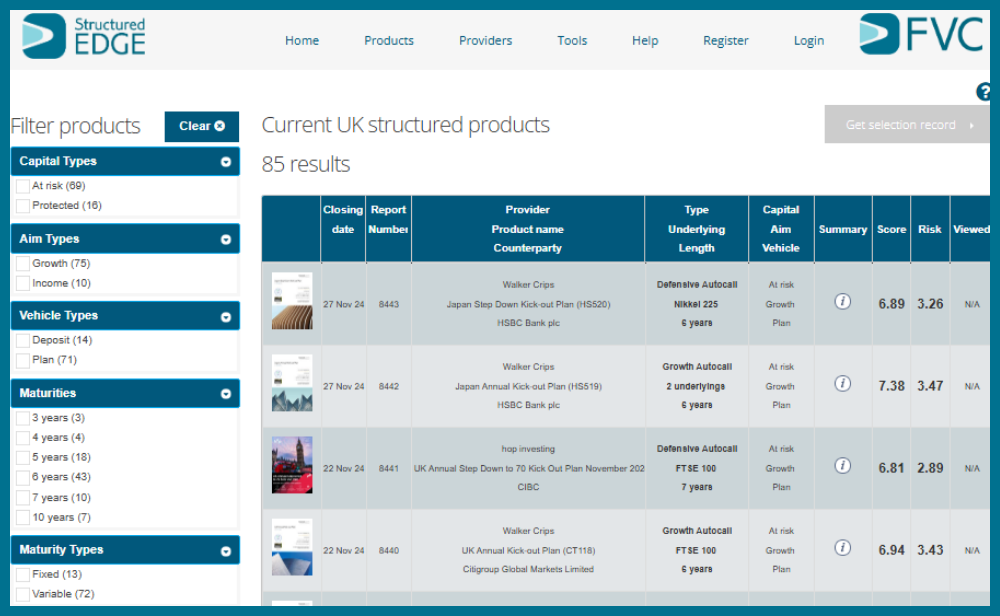 Independent financial adviser structured product research




Comprehensive quantitative methodology and reporting




Complete tools for adviser selection and workflow



Structured Edge is our research service providing independent and authoritative analysis of UK retail structured products for financial advisers. It has been established as the market standard for many years.
Over 5000 products have been analysed since the service began and it is very widely used by thousands of UK financial advisers to help them with their structured product comparison, selection and compliance processes.
Structured products are an important investment solution providing risk control and defined return solutions. However the range of product types means that understanding the market is critical to enabling advisers doing business in a compliant fashion and serving their clients' needs to the highest standards.
Central to this service is a detailed quantitative report for each investment which examines value-for-money, market and credit risk, potential returns and probabilities of different outcomes. Products are analysed using the same objective basis and methodologies.
In the time since the service was created there have been significant changes in the investment world as well as increased regulatory requirements. FVC has continually made improvements to its service to keep it at the forefront of structured products analysis in a way that best serves our financial adviser users.
In 2018 we added our Offshore market service to bring the same benefits that the UK market has enjoyed for many years. Early in 2020 the UK Structured Products Association launched its Portfolio Optimiser built and powered by FVC built on top of our Stress testing and Structured Edge services.
Before the end of 2020 we will launch Enterprise tools for financial adviser firms and networks to provide a complete solution to enable these companies to deal in this exciting asset class with confidence backed by our systems and support.
Our services
Stress Testing
Market leading stress testing service Structured EdgeI for structured product due diligence. Complete solution to help clients satisfy FCA and MiFID II requirements
Visit page
PRIIPs KIDs
Full calculation and documentation service to satisfy all PRIIPs requirements. Scalable API solution for structured products and funds backed by regulatory expertise
Visit page
Valuations
Cloud based independent valuation service Nextval for pricing of OTC derivatives and structured products. Flexible, transparent and fully supported
Visit page
Research
Structured Edge is the leading research service on structured products for financial advisers. Covers thousands of products for the UK and offshore markets
Fund Algorithms
Fund algorithms capability developed for quant fund solutions combined with long standing index calculation service specialising in algorithmic indices
Visit page
Private Debt
Private debt valuation and advisory service Debtval. An innovative comprehensive framework to assess credit, illiquidity and covenants using our valuation expertise
Visit page