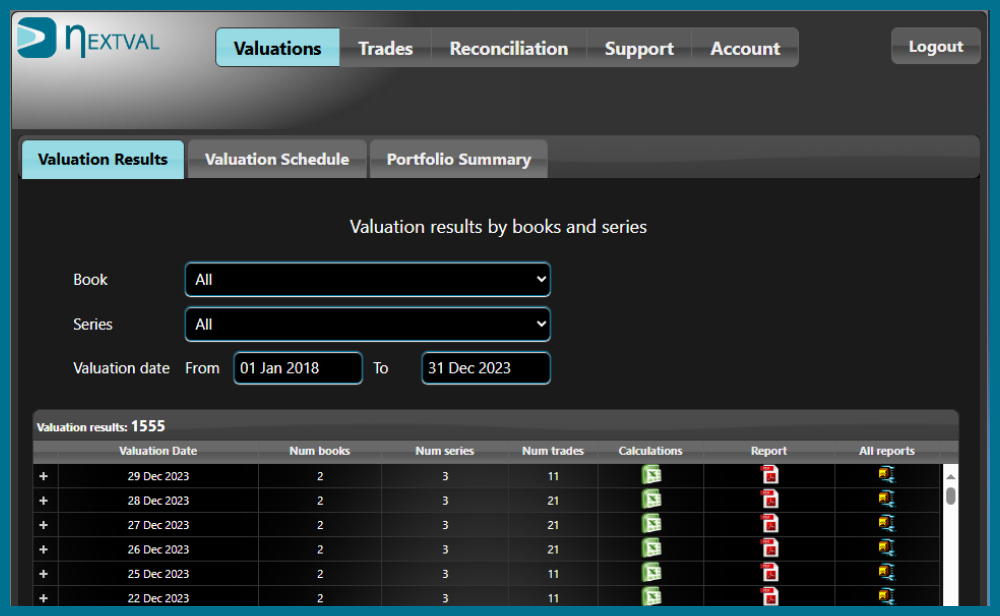 Cost effective fully outsourced service




Satisfies requirements under MiFID II, AIFMD, UCITS, IFRS9




Equity, fixed income, FX, commodity and credit all supported



Nextval is FVC's cutting-edge independent valuations service, covering derivatives and structured products.
The steady increase in more stringent regulatory and accounting requirements means the need for reliable and accurate independent valuations has never been greater. Clients use our services to satisfy UCITS, AIFMD, EMIR and MiFID II requirements. FVC has many years' experience in providing valuations services for major banks, asset managers, fund administrators and asset servicers. Our current coverage includes equity, fixed income, commodities, FX and credit.
Nextval combines efficient, flexible and competitive valuation of derivatives and structured products with market-leading financial models, cloud-based technological infrastructure and highly sophisticated online reporting capabilities. The service is powered by our in-house models, developed and utilised over twenty years to power the company's different services.
Accurate market data is critical to valuations and FVC calculates its own pricing curves daily. We have robust methods to collect and aggregate pricing curves from different sources for underlying assets and issuer credit risk in order to increase accuracy and range.
Clients submit to us a portfolio of instruments, for which we generate valuations on an agreed frequency, typically daily or monthly. Valuations are performed overnight and delivered the following morning by email and uploaded onto the client account on the web portal.
Our comprehensive and direct support is an important part of the service to assist in price reconciliation and other issues. Our team of experienced analysts is always available to resolve any problems and ensure that our valuation service is a critical independent resource to allow our clients to manage their business.
Our services
Stress Testing
Market leading stress testing service Structured EdgeI for structured product due diligence. Complete solution to help clients satisfy FCA and MiFID II requirements
Visit page
PRIIPs KIDs
Full calculation and documentation service to satisfy all PRIIPs requirements. Scalable API solution for structured products and funds backed by regulatory expertise
Visit page
Valuations
Cloud based independent valuation service Nextval for pricing of OTC derivatives and structured products. Flexible, transparent and fully supported
Research
Structured Edge is the leading research service on structured products for financial advisers. Covers thousands of products for the UK and offshore markets
Visit page
Fund Algorithms
Fund algorithms capability developed for quant fund solutions combined with long standing index calculation service specialising in algorithmic indices
Visit page
Private Debt
Private debt valuation and advisory service Debtval. An innovative comprehensive framework to assess credit, illiquidity and covenants using our valuation expertise
Visit page